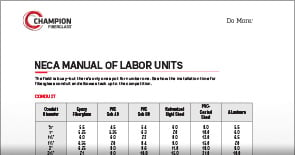 Champion Fiberglass – efficiency, strength, and savings, all in one lightweight package. For example: When installing 100-foot lengths of 3" conduit, Champion Fiberglass conduit installation takes:
2.5 hours less than PVC SCH 40
4.5 hours less than PVC SCH 80 and aluminum
12.5 hours less than galvanized rigid steel
18.5 hours less than PVC-coated steel
For 20' straight lengths of Champion Fiberglass conduit, listed NECA labor units can be reduced by 10 percent.
Try the Champion Fiberglass Conduit Calculator to compare material and installation costs for RTRC vs. aluminum, PVC-coated steel, GRC, and stainless steel conduit.